Warning
: count(): Parameter must be an array or an object that implements Countable in
/homepages/20/d451398689/htdocs/ocannabiz.com/wp-content/plugins/social-board/social-board.php
on line
3029
CONFERENCE
TORONTO 2020
April 23, 2020
Business Conference / Exhibitor Load-in
April 23, 2020
O'Cannabiz Industry Awards Gala
April 24-25, 2020
Industry Expo
April 25, 2020
Industry & Consumer Expo
Hall 5 – International  Centre | Toronto, ON
info@ocannabiz.com
(905) 858-3298
Register
We would like to thank our partners for O'Cannabiz.
On-Site Registration and Badge Pick-up
Main on-site registration will be located at:
The International Centre, 6900 Airport Road,
Mississauga, Ontario, Canada L4V 1E8
http://www.internationalcentre.com/
REGISTRATION HOURS
Thursday, April 23rd, 2020           7:30am - 6:00pm
Friday, April 24th 2020                  7:30am - 7:00pm
Saturday, April 25th, 2020            7:30am - 4:00pm
Networking Cocktail Mixer
Thursday April 23, 7:00pm - 10:00pm
O'Cannabiz Industry Awards Gala * Separate Ticketed Event
Friday April 24, 5:00pm - 7:00pm
Networking Cocktail Mixer - Exhibit Floor
Refund Policy
All sales final. Non-refundable but transferable
Disclaimer
O'Cannabiz Conference and Expo is a cannabis industry show. Cannabis in any form is not available at this show. You must be 19+ to attend
All exhibitors must agree to abide by policies stated or implied in the O'Cannabiz (or Grow Up) Exhibitors Manual. By registering and paying for a booth in the O'Cannabiz (or Grow Up) Expo, exhibitors acknowledge that they have read, understand and agree to the statements on liability insurance and security of exhibitor property. 
Exhibit Hall Hours
Exhibitor Load-in
Thursday, April 23rd, 2020           10:00am - 8:00pm
Exhibition Hours
Friday, April 24th 2020                 9:00am - 7:00pm
Saturday, April 25th, 2020            9:00am - 5:00pm

Happy Cannaversary! We're heading out of the first year of cannabis legalization in Canada on a high note. Looking… https://t.co/qFRkdMZoGT
1
3

RT @dicentradotcom: dCC was a proud Platinum Sponsor of @OCannabiz 2019. While at the conference, we participated as speakers, exhibited on…
2
0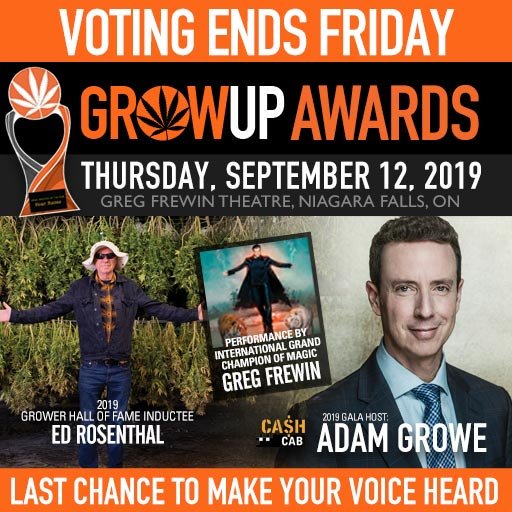 Make sure you get your votes in for the 2019 #GrowUpAwards! Voting ends tomorrow ✅ https://t.co/Hwn0HVQKXp https://t.co/hEuv4wkCqb
3
3

.@Strainprint Analytics (Clinic Edition) is the ultimate cannabis data resource for medical professionals and resea… https://t.co/xTEQQhiRRN
2
5

RT @CannMedColl: Today's podcast is by @TDopist
Nicolle Hodges speaks with @Montel_Williams about his relationship with medicinal cannabis…
5
0

Thank you so much to all of our sponsors, exhibitors, speakers, panelists, volunteers, and attendees for a fantasti… https://t.co/A9CsmhlbGl
8
54

RT @SarahSeale18: Cannabis therapy for concussion treatments - fantastic presentation !! @OCannabiz #healthcaremeetscannabis @cmrconsultant…
5
0

On the main stage right now we have @kandavolu talking to @abbyepstein and @RickiLake about their film "Weed The Pe… https://t.co/vsAFmN26Mz
1
7

We are screening @RickiLake and @abbyepstein's film "Weed The People" in Aviation A right now! There will be a Q&A… https://t.co/xaaDO8OKUr
2
10

RT @mverbora: Thanks to everyone who came out to learn about cannabinoids in pediatric cases. Hope you left with more knowledge and insight…
12
0

Montel Williams is here at the Main Stage talking about how cannabis has affected his life and health. Don't miss i… https://t.co/05Nii2xlS0
0
12